Join the Harvest Box CSA!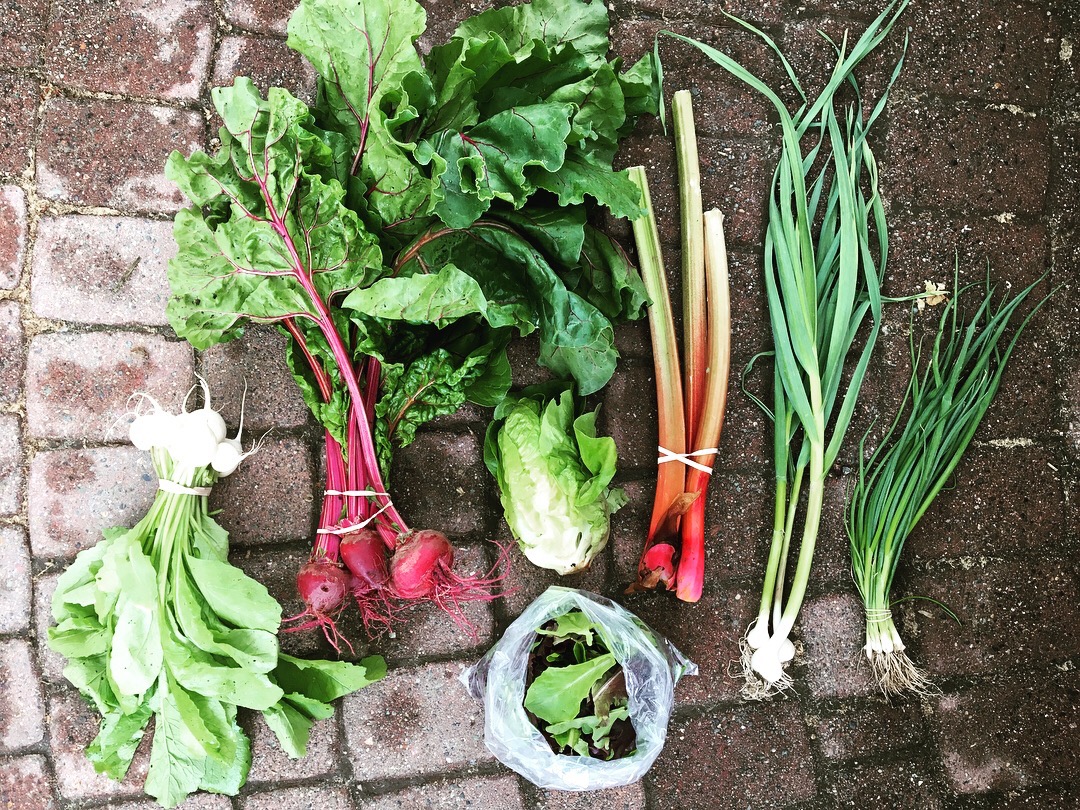 Community SupportING Agriculture
Community Supporting Agriculture (CSA) is a pre-paid subscription to our farm's produce for a whole season. We deliver a weekly "Harvest Box" full of seasonal vegetables, fruit, and herbs to convenient pick-up locations in Enderby, Salmon Arm, and Revelstoke. Our Harvest Box CSA is the best way for you to get the freshest local produce direct.
** WE ARE SOLD OUT FOR THE 2019 SEASON **
JOIN THE WAITING LIST IF YOU WOULD LIKE A CHANCE TO GET A BOX THIS YEAR. AS MORE VEGETABLES RIPEN, WE MAY BE ABLE TO OPEN UP A FEW MORE SPOTS!
Pick Up Locations:
FRIDAYS 3-6:PM: Enderberry Farm, 64 Springbend Road, Enderby, BC

FRIDAYS 3 - 6PM: Salmon Arm (LOCATION TBA)

FRIDAYS 3:30PM: Columbia Shuswap Regional District Office (Staff Only)

SATURDAYS 8:30AM-1PM: Revelstoke - at the Revelstoke Farmers' Market in Grizzly Plaza
What's in the Harvest Box?
We will plant 30+ different types of vegetables, fruit and herbs to keep our boxes full and diverse. Each week will include a variety of these seasonal vegetables and fruit - some will only appear in your box occasionally, while others will make a regular appearance.
How much does it cost?
The absolute value of your Harvest Box and the number of items in it will depend on the season. For example, your summer boxes will have a higher value than your spring boxes.
The BIG BOX Harvest Box $450 for 15weeks ($30/week average)
The SMALL BOX Harvest Box $300 for 15 weeks ($20/week average)
There is a one-time $20 transportation fee for Salmon Arm and $25 for Revelstoke pick ups. There is no transportation fee for pick up at Enderberry Farm.
Questions? Call or email Emily at 250-351-9649 or emily@enderberryfarm.ca
What is the Harvest Box CSA?
Community Supported Agriculture (CSA) is a partnership between farmers and community members. CSA is a fantastic way for farmers to directly connect with their customers. When someone joins a CSA, they pay up front to become a member and receive a weekly share of the coming year's harvest.
By paying up front, members help farmers by providing early season cash flow and a guaranteed market. Members benefit by receiving fresh, local and nutritious produce and connecting with where their food comes from and how it is grown.
Benefits of Joining the Harvest Box CSA:
Get to know your farmer and support a young farmer

Eat the freshest produce available

Receive weekly emails with updates from the farm and healthy recipe ideas

Taste! Everything is fresh, in season and at its peak.

Support your local economy, and small-scale, local, organic agriculture.

Reduce your food miles, and contribute to regional food security.

Come and visit the farm! We'd love to have you join in our scheduled field tours and potluck.
What happens when I go on vacation?
What is your Refund Policy?
Can I choose what goes into my box?
Questions? Call or email Emily at 250-351-9649 or emily@enderberryfarm.ca